I was so happy to spend my weekend with my little Teddy man! I admit that he may not be the most photogenic little guy, but he is the most loving baby in the world! He loves his mama, and I've had a really hard time being apart from him lately. Pathetic, right? I have grown up having dogs but have never been so attached to an animal like I am to my Teddy. I'm sure it has something everything to do with Teddy being my little buddy while Jamie's been deployed. My parents are so fantastic and so supportive of my job, and they are keeping him happy with them in Madison while I'm on the road full-time.
Dad drove up to Clarksville for the weekend to work on my backyard and get some more grass growing, so of course he brought me Teddy. I was able to slip in some time with friends both Saturday and Sunday, as well as a LOT of cleaning, so all-in-all, this weekend was very productive.
This picture was for Jamie 🙂
Today was a good Tuesday.
I woke up early and made my way to El Paso. I enjoyed my afternoon with Eric and Alli Lamb (hooray for Army friends!) before hopping in my rental car and completing the driving portion of my trip – 2.5 hours to Silver City, NM. I was honestly dreading the drive, but I forgot how breathtakingly gorgeous that portion of I-10 is.
No worries mom. I did not take this while driving, of course. Remember those random stops to make sure I was a citizen? This is when a few pics were snapped. 😉
Speaking at a local middle school tomorrow! Excited, like usual. I'm also really looking forward to dinner with Rebecca Warden Page and her hubby Brian tomorrow. It's so neat having friends spread out all over the country, and I'm loving getting to visit with friends that I normally wouldn't get the chance to see.
By the way, I have another book recommendation – Rachel's Tears by Darrell Scott and Beth Nimmo. I started the book when my flight took off from Nashville and finished it about an hour before I landed in EP. Let's just say I felt embarrassed for shedding a few tears on my flight while reading this book.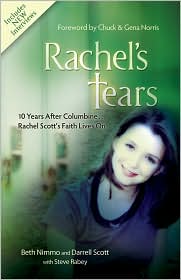 It tells the story of Rachel Scott and her unshakable personal walk with Christ. Rachel's Challenge is a non-profit, non-religious, non-political organization, so we don't reference Rachel's faith life when we speak in schools, so this book tells everything about Rachel that the organization doesn't.
I wish I could buy every copy and give one to every friend I have. I truly wish that everyone would read it. Darrell is such an incredible father and role model, and he and Rachel's mom's accounts of the horrifying day their daughter was murdered are chilling, but the beauty found in her death is something that could only be understood by reading this book.
Hi! I'm Erica, and I absolutely adore sharing my life on this website with you! I come here almost daily to blab about all of the things related to being a regular wife and mother in today's ever-evolving society. I share about our new home, what's on our kitchen table, what we're hanging in our closets, where we're traveling to next, my crazy 5 a.m. work outs, how I make time for girlfriends, our faith, and much more. We always have a lot of balls in the air and somewhat thrive on the chaos. I believe in the power of story-telling as a form of inspiration and entertainment, so I'm here to do both! I was born and raised in north Alabama and recently re-planted roots here again after my husband transitioned out of the Army (he is now in the Reserve and it's going so well!) I'm a super proud mom to three little girls (ages 7, 4, and 1) who seem to be the stars of the show around here (for good reason – they're pretty great!) I'm so glad you found me and are here reading! I hope we can get to know each other here on the blog as well as Facebook and/or Instagram. xoxo