On Wednesday one of my closest friends Jessica flew up from Tennessee to spend a few days with us, and we are loving having her here! Jamie got off work a few hours early Wednesday to be on parenting duty so that I could run down to Kansas City to scoop up Jess. 🙂 Her flight got in right on time, and we quickly headed to grab a bite to eat at a restaurant near downtown called McCoy's Public House. Highly recommend!

Yesterday was a perfect girls day. Since Hadley didn't get to see Jessica Wednesday night, she was really excited to see a new face first thing in the morning! I was pretty much chop liver all day. She wanted Jessica! Our day consisted of playing a little bit with Hadley at the library, shopping for a couple hours at the mall and nearby boutiques, making a pit stop at a local bakery for cupcakes, and of course talking all things pregnancy and baby girls (she's 20 weeks pregnant with her daughter Mia!).



After a yummy dinner at home, we put Hadley to bed and curled up with blankets, a fire, and some homemade white chocolate popcorn to watch Gone Girl. If you haven't seen it yet, put it on your weekend "to watch" list. It's unreal, and that's all I'm sayin!



Today we may or may not be hitting up the local Wizard of Oz museum. When in Kansas! 😉

Today I'm super excited to be featured on one of my favorite blogs for a Fresh Face Friday post. Casey is a fellow military wife whose blog extensively features her traveling (most European) and other musing of her married life and life in general. You can check out the feature and her blog at We Took the Road Less Traveled. Thank you Casey!

Finally, if you're a blogger, I hope you'll participate in our blog hop today!


Welcome to the
FRESH FACE FRIDAY BLOG HOP!
Rules for hopping:
1| Follow your host & co-hosts (first 3 links), pretty please!
2| Link up your blog's homepage or Bloglovin' page.
3| Hop around, meet new bloggers, and leave them love!
4| Have fun? Spread the word and share this blog hop with your friends!
Grab a button and share the blog hop love!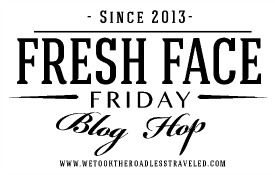 Tweet about this blog hop!
Tweet
Hi! I'm Erica, and I absolutely adore sharing my life on this website with you! I come here almost daily to blab about all of the things related to being a regular wife and mother in today's ever-evolving society. I share about our new home, what's on our kitchen table, what we're hanging in our closets, where we're traveling to next, my crazy 5 a.m. work outs, how I make time for girlfriends, our faith, and much more. We always have a lot of balls in the air and somewhat thrive on the chaos. I believe in the power of story-telling as a form of inspiration and entertainment, so I'm here to do both! I was born and raised in north Alabama and recently re-planted roots here again after my husband transitioned out of the Army (he is now in the Reserve and it's going so well!) I'm a super proud mom to three little girls (ages 7, 4, and 1) who seem to be the stars of the show around here (for good reason – they're pretty great!) I'm so glad you found me and are here reading! I hope we can get to know each other here on the blog as well as Facebook and/or Instagram. xoxo